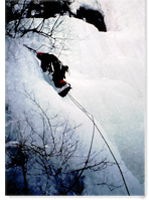 Ice Climbing in the Valley
of a Thousand Falls:
By Peter Austen

---
Kinney Lake is the first emerald you see just before the entrance to the Valley of a Thousand Falls. It is glorious on a hot summer's day but ice cold and scintillating when you cross it on skis at 30 degrees below zero. Bob Knight and I had come exploring and ice climbing. The great deed was to make a first ascent of White Falls off to the side of Heartbreak Hill, so called because of the sweaty effort required to climb it on the way to Berg Lake. We camped just past Kinney Lake and broke out the Glayva – "just to have a wee medicinal dram, ye'll understand."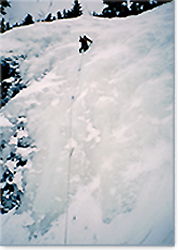 Three thousand feet above us Whitehorn Glacier hung in the air, poised to drop on us and we held our breath as if that would make a difference. Konrad Kain, the great Austrian guide, has amazingly climbed Mount Whitehorn solo 60 years ago to the make the first ascent. The first pitch of White Falls rose up ahead like a white dragon, glistening and menacing. Bob wove his way through bulges and feathery plumes, placing ice screws and carabiners (snap links) every ten feet and clipping in his rope as he went. Thirty metres of almost vertical ice took half an hour and his breath resembled that of a horse in the biting cold. I led the second pitch without incident.
Bob yodeled his way competently but with perhaps a mite of over confidence up the third pitch and then it happened.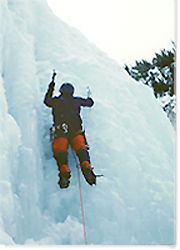 He was climbing up the side of a free running cascade on fairly thin ice. I took a picture and looked down at my anchor point to check all systems. A great roar shook the amphitheater all around. Bob did a neat backwards swan dive off the dragon's crest as the large section of ice he had been clinging on to cascaded into the depths. He went down with the blocks but somehow they cushioned his fall. Grinning sheepishly and slightly shocked; we laughed off the moment, trying to keep mucho macho. Bob extricated himself from the blocks that were the size of cement bags. "Lucky devil, where do you buy charmed lives?" I ventured. "Built in of course."
The only things I remember about the next pitch was the deep pool we avoided at high speed by the left wall. A Robson winter squall covered us with diamond dust as we managed to climb out. The huge icefall of Emperor Falls towered above and dozens of other waterfalls of up to two thousand feet in height beckoned seductively in the fading light. Bob had used up one more of his nine charmed lives.
---