THE THOMPSON-NICOLA BC NATURE TOUR
2 to 3 days
Your journey to Spences Bridge along Highway 1 east takes you through the Fraser Canyon, British Columbia's premier river-rafting country. At Spences Bridge, you will turn onto BC Highway 8, towards Merritt. This is prime farming and ranching country and the beauty is well worth the drive. Take a stop at the N'kwala Forest Recreation Site, approximately 46 km (28 miles) from Spences Bridge.
Merritt is best known for the Merritt Music festival, which takes place in the Summer. From Merritt you will take Highway 5a, another scenic, tranquil drive that winds along the border of Nicola Lake. Great fishing opportunities abound here.
Mountainfest: BC's Premier 4-day outdoor concert event. July 9-12th 2009
Mountainfest 2009!! - Join Paul Brandt, Jo Dee Messina, the Steve Miller Band, Kenny Chesney, Emerson Drive and more at the 17th annual Merritt Mountainfest. Reserved Seating, Full Event and Single Day tickets, reserved camping, as well as VIP upgrades are all available.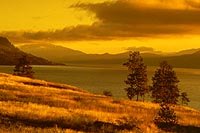 Kamloops Lake
Photo Courtesy of Tourism British Columbia
Quilchena Hotel was built in 1908 as a midpoint stop for travellers journeying between the towns of Nicola and Kamloops. Open during the summer months, it is a great location for a casual pub lunch, or a more formal dinner in its main dining room.
At the north end of Nicola Lake is a favourite location for migratory waterfowl. There are several parks in the areas that are favourites for boaters and birdwatchers. Mineral Hill, near Stump Lake (45 km/28 miles from Merritt) offers cross country skiing.
Kamloops (50 km/31 miles from Merritt) is a great place for heritage walking tours. Visit the Rocky Mountain Rangers Museum, or take in some fishing in one of the 200 lakes in the Kamloops region.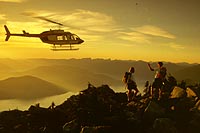 Hiking in BC.
Photo Courtesy of Tourism British Columbia
Heading west on Highway 1, you will turn off on Highway 5 (Coquihalla Highway) south, and continue until you come to exit 336, the access to Meadow Creek, Logan Lake/Lac Le Jeune Road. Follow the signs to Logan Lake. Camping opportunities abound in this area, and there is no lack of freshwater lakes to visit.
Your tour continues west past the Highland Valley Copper Mine to Ashcroft (60km/38 miles from Logan Lake). The road descends steeply as it approaches Ashcroft, located at the base of a large valley, on the Thompson River. Be sure to visit the Ashcroft Manor, located on Highway 1 on the west end of town.
Spences Bridge is approximately 30 km/19 south of Ashcroft, home of the big horn sheep. Keep an eye out for them and watch your speed in this area. The sheep live in the cliffs above the town, but often come down to the river for water.
From Spences Bridge Highway 1 takes you back towards Hope and the Vancouver area.
Be sure to browse the Points of Interest:
Read a Travelog: